| | |
| --- | --- |
| | [slideshow gallery_id="5"] |
After much research and preparation my doula client, Carla, was determined to have a natural birth after having a cesarean due to low amniotic fluid at 38 weeks with her first born in Brazil. Much to her disappointment she was met with what seemed the unmovable protocol of constant monitoring. This meant no water birth or even showers during labour as she had so hoped for. Having her baby in The Netherlands seemed at first so much better than being in her own country Brazil where cesarean is so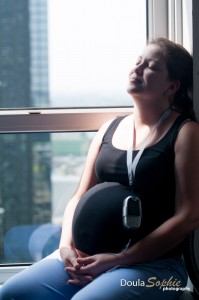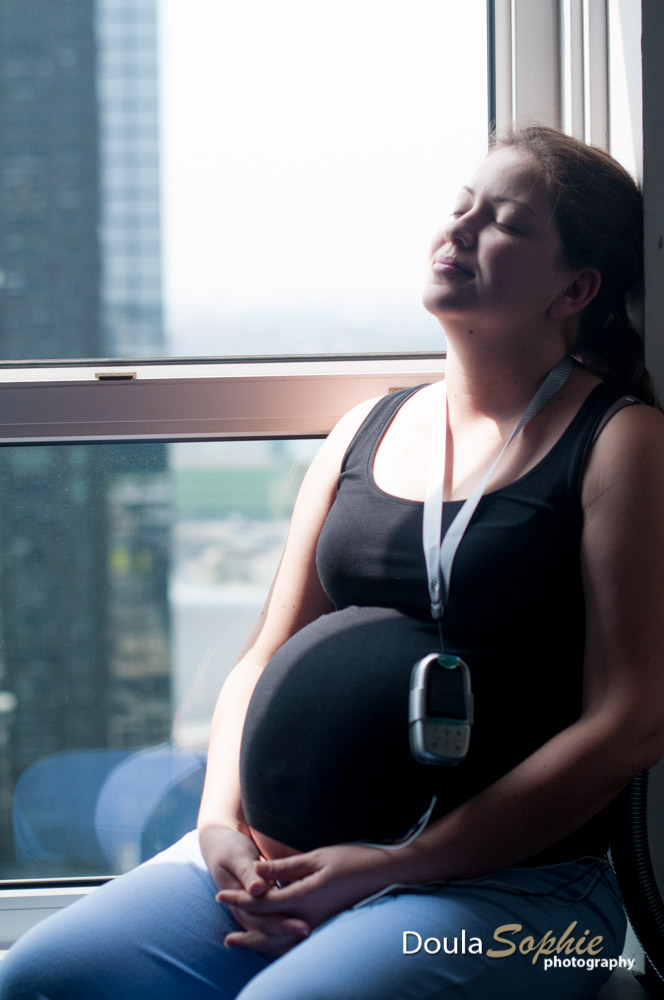 normal but now in The Netherlands she was forced to have a some what medical birth because of her cesarean. It was ironic to realize that if she had been in Brazil she would have been able to, at extra expense, go with home birth midwives and doulas and go for her home VBAC in water.
Never the less this amazing Mama totally trusted her body and kept on trusting despite (quote) "feeling like a sick person with a scar" after her appointments in the hospital. She had the total support of her husband and knowing that he trusted her instincts was really important. As her doula I too trusted her. She was informed, had educated herself and trusted her body was not defect. The 0.3 chance of a uterine rupture was there and was real but it was not going to affect this Mama trusting in the natural process and staying in her own environment so she could relax and labour as she wished.
When it came time to labour she was determined to stay home as long as possible. She trusted she would know if something was not right. Early labour began at 1am and at 5am I arrived at their apartment building while most of Rotterdam still slept. And on the 21st floor, while Rotterdam was waking and going about their day Carla laboured quietly and bravely at home for 12 hours. Big brother Pedro played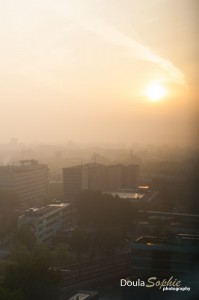 with his Grandma and waited patiently occasionally touching his Mama's belly and asking Betina to come out. Such a sweet spirit. There was such a peaceful atmosphere in the home and Carla was able to relax in the shower and in the bath and labour peacefully as she had hoped. She used the Mama tens quite a bit and it really helped relieve the back pain. Labour slowed down a bit around lunch time. Carla was having an emotional battle against the fear of going to the hospital. She was afraid that everything would stop upon arrival at the hospital and that she would be stuck to the bed. We processed her fears, prayed about it and slowly she pushed through the fear.
Although it felt like active labour, and for Carla it really was, at 5pm the labour kicked into a more intense mode and she felt it was time to go to the hospital. There we found out that she had been labouring all day for her cervix to soften and she now had 2cm dilation. The two young and enthusiastic midwives who received us in the hospital said the baby's heart was strong and she could labour the next hour in the shower. We were all surprised and thrilled. We had been told that constant monitoring was non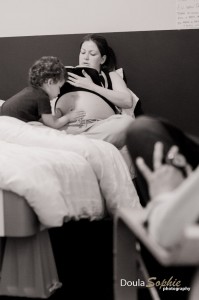 negotiable and the hospital had no waterproof system. This was our first surprise of the evening! They had clearly read Carla's birth plan and told us that the one was an expert on giving birth on the birthing stool which Carla was interested in trying. This is quite unusual as I commonly experience negative vibes when mentioning the birthing chair in a hospital. (unfortunately she was on duty till 11 so she did not end up being at the birth) So Carla sat on the birth ball in the shower and breathed through the intense feelings. Unfortunately the pressure power of the shower was not so great and so she started to get cold after a while.
She laboured further in the room, moving around until needing to be monitored once again. The baby was doing really well but Carla was super tired after being awake so long and she just wanted to sleep. The midwives suggested some time in the birthing pool which was down the corridor and free at the time. We could hardly believe it, surprise number 2. Her dreams to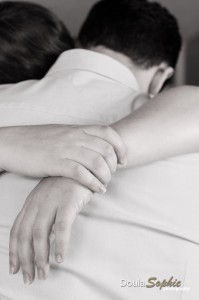 give birth in water would not be possible but this was pretty close and more than she had dared hope for at this point. So we trekked down the ward, leaning against the wall for contractions, to the birthing pool suite and Carla spent a good few hours labouring hard in water. It was tough and she was so tired but she kept on finding enough strength to carry on. Back at the birthing room she had 6cm and got her much needed pethidine shot for some pain relief and some much needed rest. She had been labouring for almost 24 hours at this point. So some rest time for us all. Rest time at this point in labour means you sleep for 5-10 minute intervals which feels like an hour when you are that tired but it gives enough energy to go on.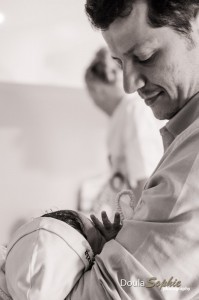 The contractions began to weaken again and she slept… I really felt she needed to find that extra fight in her for that last stage and give up on the sleep idea. When there was mention of inducing stronger contractions with oxytocin I knew she had to get up and fight and get these contractions going again. It was time to work together with baby Betina instead of letting her do all the work and sleeping. Alexandre and I gave Carla a (strict)pep talk and she dug deep. We told the Gynecologist we wanted to try for an hour to naturally get the contractions stronger. And we did, and they, the contractions, did get stronger. In half an hour, just by standing, moving around and rotating her hips, she was fully dilated! On hands and knees she started to instinctively push the baby down. She felt her moving down and while Carla called out her daughters name, Betina was born at 3.39, a little over 10 hours after arriving at the hospital. What a beautiful Brazilian beauty with gorgeous black hair and a very proud and content Mama and Papa. 3 hours later we were on our way home. Carla and Alexandre, to introduce Betina to Pedro and Grandma and me to my bed.
27 hours of labour with many surprise blessings along the journey and much hard work from a Mama who was determined to have a vaginal birth after a planned cesarean. Well done Carla, you were amazing, you dug really deep and you did it. Alexandre was your strong tower through it all and together we supported you to find your inner strength and strength from God. It was a pleasure to be your doula in this process.