I met Vanessa and her husband when they took a private birth course with me for their first baby. She had complete faith that she could birth her baby naturally and really wanted to birth at home.
What were the circumstances that led to your c-section?
At around week 35 I found out that my baby was breech. I was heart broken, as I really wanted to try and have a home birth. I knew that I would never forgive myself if I didn't try to give birth naturally, so I weighed out the options with the gynaecologist and my husband. I decided that I would let my baby decide his own birthdate and on September 7, 2013 at around 2am my waters broke. I wasn't feeling any contractions and knew that for the best possible outcome I needed to stay calm and move around, so I went into work! I worked though the early hours of the morning and called my husband to pick me up after I had finished baking cupcakes (I had a cup cake business at the time). We were told to come to the hospital, where I was induced (something I did not want, but was told it was necessary to make sure that I would give birth in the next 24 hours). My contractions grew stronger throughout the day and around 9.30pm I was ready to push. I pushed for nearly 1 hour, but after suffering severe leg cramps, being completely depleted of energy and baby not moving we were taken in for a c-section.
Did the c-section have any effect on your well-being?
While I thought that the c-section would traumatize me, it did not. The delivery team explained everything very well and to be honest I was so ready to meet my baby. I was able to nurse him with the help of the nurses within an hour after he was born and we both then got some much needed rest.
I did however have thoughts of 'what if' after. There was something inside me that had a feeling I could have been successful giving natural birth if I was only given the chance and different treatment. This was something that stuck with me all through my second pregnancy.
How did you know you wanted to birth vaginally this time?
For me it wasn't even a question, I just KNEW I needed to try. I have this deep, almost primal feeling that this is the way birth should be. It was something that I needed to prove to myself, that I was strong enough mentally and physically to give birth as so many millions of woman had done before me.
What was your greatest hope for this birth?
My greatest hope was that I would have a successful vaginal birth and heal some of the wounds I received mentally from my first birthing process.
What was your biggest fear going into this birth?
My biggest fear was that I wasn't strong enough and that my body was somehow defective. To be honest I was never afraid of the risks, as from reading the numbers I felt confident they were not very important.
How did you prepare for your for this birth?
I prepared by practicing yoga, watching videos, visiting a chiropractor reading and talking out my plan with my husband and Sophie.
About 1 month before giving birth I would sit on the balance ball every evening, willing my hips to open.
What was your biggest battle during the labour?
Overcoming my fear of failure. My body felt strong, but about halfway through pushing, doubt was starting to creep into my mind. Thankfully with the help of Sophie talking me through it I was able to push those fears away and focus my mind.
What was the moment you realized your VBAC was successful?
The true moment I knew I was successful was when I felt my babies head push free. Yes, of course there was pain, but nothing mattered in that moment other than having my baby brought up onto my chest. It was such an emotional moment for me, I felt amazing and was so proud of my body and my baby. I was also a bit in shock that everything had gone so smoothly, I couldn't even seem to opens my eyes for fear that it might have all been a dream. One of the best moments of my life!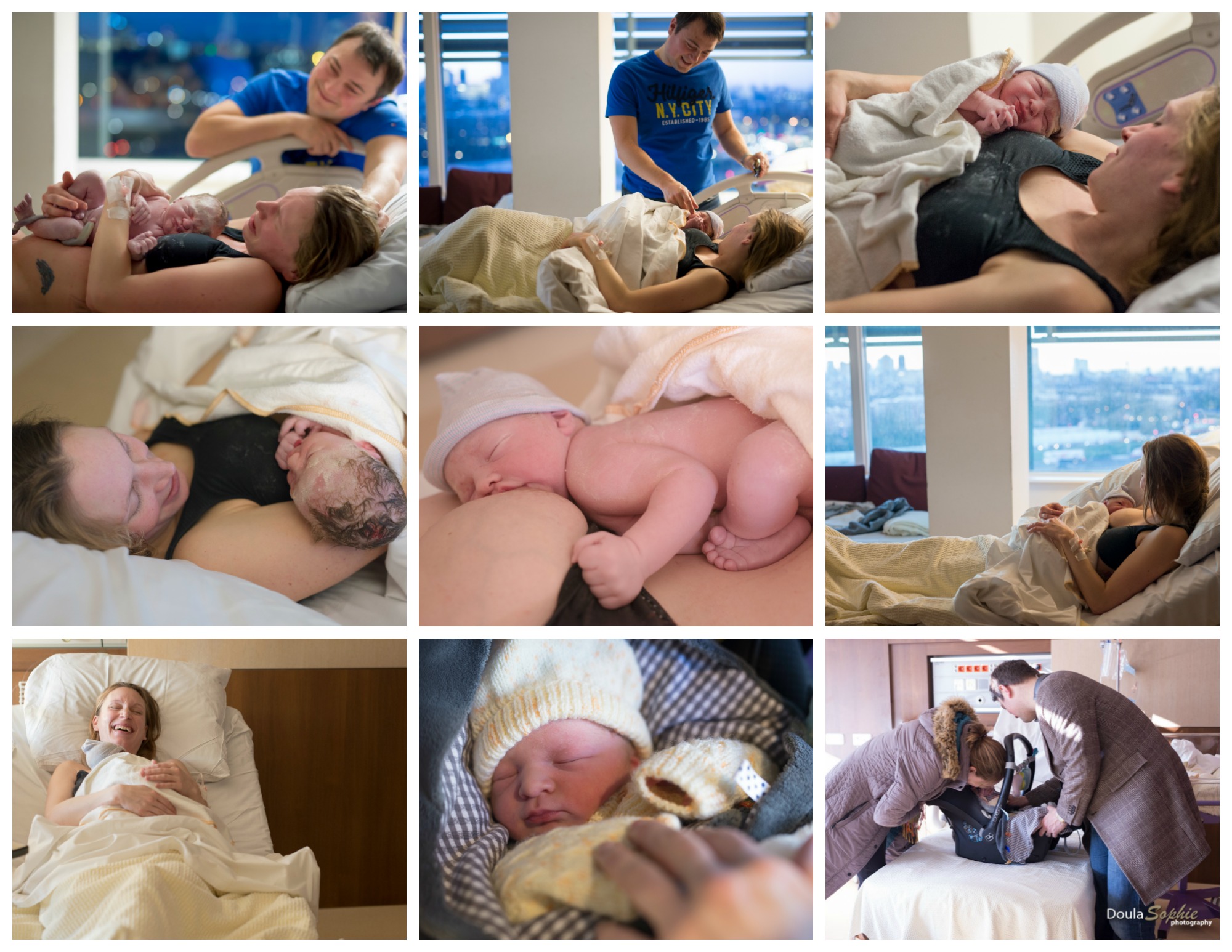 What have you learned about yourself through this process?
I've learned that I am strong, mentally and physically. That no matter what has happened in the past, we should focus on the here and now, because that's what truly matters. But most importantly I learned to trust myself.
Name 5 things that contributed to you successfully birthing vaginally.
An amazing mother who always told me how special it was to give birth. She never once told me how painful or scary it was. For her birth was a beautiful process and I believe this is something more women need to hear! It was my goal to feel that same way about birth and now I do.
Preparing physically by practicing yoga, sitting on the balance ball, chiropractic care, constantly chasing a toddler around and listening to my body. Taking a 4-hour walk the day before I gave birth might have also helped. 😉
Mentally preparing by talking through my fears, writing out a birth plan and just believing in myself.
SUPPORT! I knew this time around I needed the best support to help me mentally during birth. I knew I wanted my husband and Sophie by my side. I also feel really lucky that the birth team in the hospital that night was fantastic, calm and really supportive of my birth plan. It helped me to feel empowered.
A baby that decided to be in the perfect position for birth!