Since the moment we found out that we would be having our first child, we thought that the best path would be to give birth in the hospital with an epidural. My dad is a doctor and I would say to anyone who asked "why should I feel any pain if pain relief is possible?" My husband and I also insisted on seeing the gynecologist for every visit/check-up and we were not interested in having a midwife. However, at 36 weeks pregnant we had a complete change of heart, leaving the Gynecologist and hiring Doula Sophie and the midwives at MCH Westeinde hospital.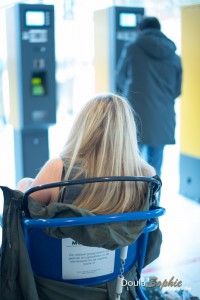 My husband and I attended a six-week long Confident Birth Course where we learned about different birthing possibilities and pain relief options. Hearing about Doula support intrigued us as neither one of us has family here and we had not felt very supported by our Dutch gynecologists. We felt that we had been pushed around almost to the point of being bullied and we really wanted to have someone who would be on our side during the birth of our child. Hiring a Doula just made sense to our minds. But once we met Sophie, we knew in our hearts that we had made the right decision.
Our baby decided that it was time to meet us after he had been in my belly for 41 weeks. On a cold and rainy November day we drove to our regularly scheduled midwife appointment. The midwife confirmed that I was 2 cm dilated and would be having the baby that day. Sophie was already on her way to meet us at the hospital.
The next sequence of events seems like a plot for a movie but I assure you – we lived through it, in great part thanks to Sophie's support:
At 2 cm dilated, the midwife instructed us to go walk around the hospital for a bit as it would help with the dilation progression. We also had to wait for the birthing midwife to arrive to the hospital. By the time the birthing midwife (and Sophie) had arrived, which was less than an hour, I was 4 cm dilated. The midwife tried at that point to arrange for a delivery room but they were all occupied. Sophie, my husband and I were all stunned to hear that we would have to change hospitals mid-labor. When told that we had to drive ourselves to the new hospital (and not be transferred by am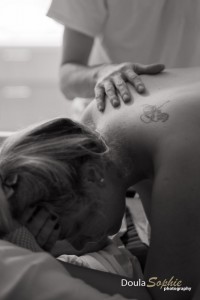 bulance) we really didn't know what to do. At this moment, Sophie reassured us and said that she would lead the way in her car so my husband didn't have to worry or think as he drove with me laboring in the backseat – this was a huge relief.
By the time we arrived to Bronovo and I was settled in my room, I was 6 cm dilated – this baby was coming and he was coming fast! Sophie knew that we wanted to have a water birth so she suggested that I get in the shower since it was the only water option available. It felt so good to be in there!
It was worrying to everyone that I felt the urge to push too early and with every contraction. Sophie helped me focus on my breathing and to stay as calm as possible. When I felt excruciating pain in my lower back, Sophie got behind me and would massage/provide counter-pressure during each contraction. She did this massage tirelessly for hours.
Sophie knew that we had brought music to play during the birth and she reminded us of it. In those moments, neither my husband nor I were thinking clearly but Sophie, having discussed these things with us beforehand, was there to remind us. She also reminded my husband to eat something.
At 8 cm, dilation stalled and an ultrasound was performed. Our baby was turned the wrong way – his head was not putting enough pressure on my cervix for dilation to continue, and I was given synthetic hormones to help. Sophie suggested various labor positions to try to encourage the baby to move into the appropriate position.
Despite our best efforts, and 18 hours of contractions, we found out that our baby needed to be born via C-Section. Sophie waited w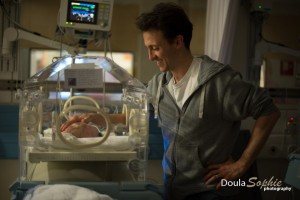 hile my husband and I were taken into the operating room and was with my husband and baby while waiting for me to return from surgery. Sophie was there when we grew from a family of two, to a family of three.
Having a baby in a foreign country is stressful but with Sophie by our side we felt empowered. Her calming presence and thoughtfulness provided support in the most intense moments of our lives. When everything seemed to be going wrong, Sophie was there, thinking of how we could make the best out of the situation and make the birth as close as possible to our original birth plan.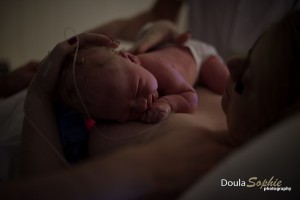 Not only did she provide amazing Doula support, but Sophie also took the most beautiful photographs of labor and our first moments with our son. She visited again the following day and took more photos. Thanks to her, we now have a stunning album with our birth story, a gift that     we will treasure forever.
Sophie's support gave was priceless, and we look forward to having her present at all of our future births!
Jovana
[Note from my husband]: Sophie was the angel I needed to help my wife through this most joyous and yet frightening day of my life. As a foreign couple, with no family to rely upon in Holland, Sophie was my shoulder to lean on; the one I felt I could truly trust. Thank you, Sophie.
Alex