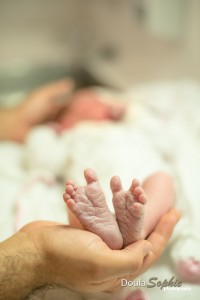 "I am originally from Venezuela. In my country giving birth vaginally is considered old fashioned and for people that do not have enough money to go to a private clinic to plan a c-section. It is considered the best care a pregnant woman can have in Venezuela when she has a planned c-section.
Considering my background and all the influence from my Venezuelan family it was very difficult for me to understand and to accept the Dutch mentality around birth. In my preparation with Sophie she helped me a lot to understand the natural process of giving birth. At the beginning, I was completely against a natural delivery. I at least wanted to have an epidural in case of having a vaginal birth. As time went by I understood that there was a possibility there would be no time for an epidural if dilatation progressed quickly, especially because it was my second baby. I began to see that it was maybe better for the process and my baby to have a natural birth.
When I was 39 weeks and 4 days pregnant Sophie came to my home to give me a relaxing massage. It was great and put me to sleep. About two or three hours after that magic massage the contractions started. When the dilatation started I was at home managing the contractions very well. When the pain was more intense and the frequency higher I went to the hospital. Sophie met us there. I arrived with 5 cm of dilatation and just 30 min later already 7 cm, so as I had expected there was no time for an epidural. I understood within those few minutes that I was in for a completely natural delivery. I tried to accept it quickly and decided to do my best to go with the process and put into practice everything that I had prepared with Sophie.
I need to say that it was very difficult for me. It was very painful and intense. I had many hesitation moments and I was not sure I was going to be able to do it… but I listened to Sophie saying you are doing a great job, and I felt the hands of my husband giving me his support and I renewed my energy between one contraction and another one, waiting for the right moment to birth my baby. When the pushing feeling arrived I was afraid… that was my biggest moment of hesitation and fear, it was saying to me that I wouldn't be able to do it. But again the support of Sophie and my husband helped me to continue, there was no other choice and a few minutes later my beautiful daughter was on my breast, pink, with her eyes open.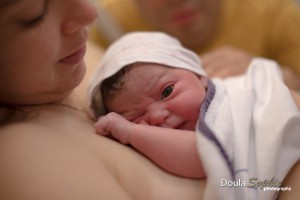 All my fears suddenly became a wonderful experience. I was really proud of myself and felt huge satisfaction. I was exhausted but incredibly happy… as if I was finishing a marathon in first place and beating the world record 🙂
And there she is, looking at me now after almost two months, and I imagine her saying: "Thank you Mama for letting me decide the moment to come into this world and for giving me the opportunity to have a natural birth" She is a very peaceful baby, sleeping almost all the night, reflecting happiness and peace to our family.
I want to say thank you Sophie for never judging me and for leading me on this journey to this successful birth!"  Josmarie